Make your marketplace items SEO friendly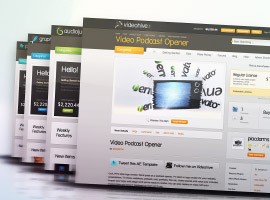 No doubt it's a great opportunity to upload your files on Evato marketplaces, because they get a lot of traffic and your item will get some as well, but there is something we can do to get even more traffic to our items and help the whole community. It's not a secret that these days people use Google or other search engine to find what they're looking for. So it's important that Google can find your items. What's also important – marketplaces without our items would be just wiki/help with some forum threads. You have to understand – you're the one that makes the marketplace and it depends on you (as well) how great it is, how easy to find, how relevant to keywords etc.

Make sure you list out in plain text every feature that you listed in your preview video or image because Google can't read video/im

age/audio content
One big mistake that authors does – and here I'm mostly talking from my VideoHive experience, but it can be applicable to other marketplaces as well – is advertise their item features in preview video or preview image. While it's a great way to communicate those features to potential buyers that are watching your video/image – they're invisible to search engines. Google can read file names, but can't read video/image/audio content. Recently I realized – if you're adding video tutorial in your package – cut out some parts from it that talks about item features and put those in your preview video. That way buyer will get a glimpse of tutorial and learn about the additional features your item has. But what's even more important is that you list out every feature as a written text in item description. Basically everything you mentioned (verbally/visually) in your video has to be listed in plain text in item description. Also make sure you list features that you listed in your preview image as well, because Google can't read text from audio/video/image content.
Also remember listing your most important things at the top and leave the less important down to the bottom as Google reads from the top and is quite lazy for long texts. You also might want to keep logical text flow through your item description. What if there are some things you want to list, but don't know how to include them in the sentences? Well – you have tags. They're several different words that don't need to make sense as a whole text, but they do need to make sense as each separate tag. Therefore don't waste your time listing same tag several times just to make others sound nice. e.g. 3d titles, 3d text, extruded text etc. Mentioning 3d just once is enough. the same goes for text. mention it just once and you're fine. you don't need to repeat that in various combination.

Search engines doesn't understand "All colors" tag and would not return your item when user sea

rch for red items
Being a reviewer on Videohive for quite some while i noticed that people don't pay enough attention to tags. Back in the days when we had separate tag for color 99% of items came in with "All colors" tag and half of them this was only color tag. While you might feel that "All colors" tag really tells user that your project can be customized and used with any color – tag field is not item description. Users don't read tags to understand your item's features. Users use search engines to find stuff and search engines use tags and other keywords to return results. Now think. If user searches for items in red color will or will not he find item with "all colors" being only color tag?

There is nothing worse as preview image with random number sequence as a file name or just "preview_image.jpg" that makes it equal to

thousand others.
We talked previously that Google can't read audio/video/image content however they can read and they do read file names. Lately Envato changed their scripts and now when you upload your preview image, thumbnail, preview video – Envato saves those files with original filename that you provided. This is your chance to tell Google whats in your videos/images. There is nothing worse as preview image with random number sequence as a file name or just preview-image.jpg What I do is – put the item name and some description in file name. For example "video-podcast-opener-logo-sting-ae-template-project-file.jpg" which includes the item title "video podcast opener" then tells it's alternative use "logo sting" and then says what it is "ae template project file" the same file name can go for thumbnail and preview video. except you can add thumb or video at the end – so you can store those files in one folder before upload and know which is which when you've uploaded and need to set those from drop down list. Also remember it's better to use dash or underline to separate the words rather than make the file name as onelongword. Just like you – Google will have a hard time knowing where each word begins/ends and what it says.
See my marketplace items